Way cool!
Thanks, Om Malik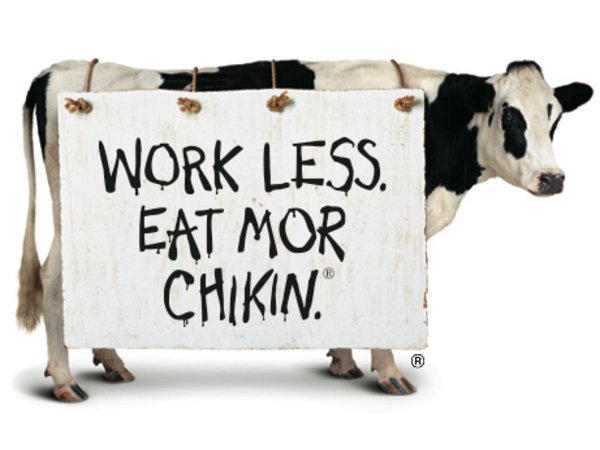 ❝ Seven percent of all American adults believe that chocolate milk comes from brown cows, according to a nationally representative online survey…

If you do the math, that works out to 16.4 million misinformed, milk-drinking people. The equivalent of the population of Pennsylvania…does not know that chocolate milk is milk, cocoa and sugar.
❝ But while the survey has attracted snorts and jeers from some corners…the most surprising thing about this figure may actually be that it isn't higher.
❝ For decades, observers in agriculture, nutrition and education have griped that many Americans are basically agriculturally illiterate. They don't know where food is grown, how it gets to stores — or even, in the case of chocolate milk, what's in it.

One Department of Agriculture study, commissioned in the early '90s, found that nearly 1 in 5 adults did not know that hamburgers are made from beef. Many more lacked familiarity with basic farming facts, like how big U.S. farms typically are and what food animals eat.

Experts in ag education aren't convinced that much has changed in the intervening decades.
❝ …Studies have shown that people who live in agricultural communities tend to know a bit more about where their food comes from, as do people with higher education levels and household incomes.

But in some populations, confusion about basic food facts can skew pretty high. When one team of researchers interviewed fourth-, fifth- and sixth-graders at an urban California school, they found that more than half of them didn't know pickles were cucumbers, or that onions and lettuce were plants. Four in 10 didn't know that hamburgers came from cows. And 3 in 10 didn't know that cheese is made from milk…
❝ Today, many Americans only experience food as an industrial product that doesn't look much like the original animal or plant: The USDA says orange juice is the most popular "fruit" in America, and processed potatoes — in the form of french fries and chips — rank among the top vegetables.

"Indifference about the origins and production of foods became a norm of urban culture, laying the groundwork for a modern food sensibility that would spread all across America in the decades that followed," Vileisis wrote, of the 20th century. "Within a relatively brief period, the average distance from farm to kitchen had grown from a short walk down the garden path to a convoluted, 1,500-mile energy-guzzling journey by rail and truck."
RTFA. Makes a few good points about understanding agriculture. Overall, it reinforces my perception of American education. We make ourselves look good – compared to the least educated 3rd World countries – on the basis of testing for what our children are taught. Both the testing and subject matter are lacking as far as I'm concerned. The tidy little curriculum that satisfies a Middle American education has little or nothing to do with a global economy, the needs and future of all of the humanity on this planet, citizens of Earth.
❝ Wyoming Area Secondary Center's high school valedictorian and class president, Peter Butera, did not mince words during his valedictory speech at his graduation ceremony June 16…Butera — who is due to attend Villanova University come fall — took the opportunity to thank his fellow students and the teachers and administrators who enriched his high school experience — and to stand up to those who had not.

Class president all 4 years of high school — Dave Scherbenco/AP
"Good evening, everyone. The past four years here at Wyoming Area have been very interesting to say the least. To give you an idea of what it was like, I'm going to take this time to tell you all a bit about what my Wyoming Area experience was like and the people who were a part of it.
I would like to start off by thanking my mom, my dad, and my baba, who have raised me since the day I was born and have helped me become the person I am today. Every one of us graduating have those special people in our lives that care for us every day, and love us unconditionally. And to all of you here today, we cannot thank you enough for everything you've done for us.
I would now like to recognize a few teachers who are extremely committed to their jobs as educators, and have worked to make me and many others, better students every day: Mr. Hizynski, Mr. Pizano, and Mr. Williams. In addition to these three, there are a number of other very good teachers at our school as well. It is dedicated teachers like these that truly help to develop students and prepare them to further their educations.
Not only does Wyoming Area have some great teachers, but a couple great administrators as well. Mr. Quaglia had been our principal for 3.5 years, and was as great a leader as they come, always extremely caring and reasonable. Over the summer, our school hired a new principal, Mr. Pacchioni, and despite the hesitancy that some students may have had about getting a new principal our senior year, he quickly put that to rest by coming in and always looking out for the students here since day 1.
Throughout my time at Wyoming Area, I have pursued every leadership opportunity available to me. In addition to being a member of Student Council since I was a freshman, my classmates have also elected me Class President the past 4 years, which has been my greatest honor, and I would like to thank you all for that one final time, it really means a lot. However, at our school, the title of Class President could more accurately be Class Party Planner, and Student Council's main obligation is to paint signs every week. Despite some of the outstanding people in this school, a lack of real student government and the authoritative attitude that a few teachers, administrators, and board members have, prevents students from truly developing as leaders.
Hopefully in the future, this will change. Hopefully for the sake of future students, more people of power within this school, who do not do so already, will begin to prioritize education itself as well as the empowering of students. Because at the end of the day, it is not what we have done as Wyoming Area students or athletes that will define our lives, but what we will go on to do as Wyoming Area Alumni. And I hope that every one of my fellow classmates today, as well as myself, will go on to do great things in this world, and find true happiness and success. Thank you all for coming out to this great celebration today."
I'm hard-pressed to understand why the drones in charge of education in Wyoming, Pennsylvania, felt they had to shut this lad's speech down. When I graduated high school – a couple centuries ago in the bowels of McCarthyism – I think there were plenty of schools with sufficient gumption and commitment to traditional American ideals to support a speech like this one.
More than ever, I fear for the future of American education if this pretty moderate challenge to obedience is considered dangerous enough to pull the plug on the sound system.