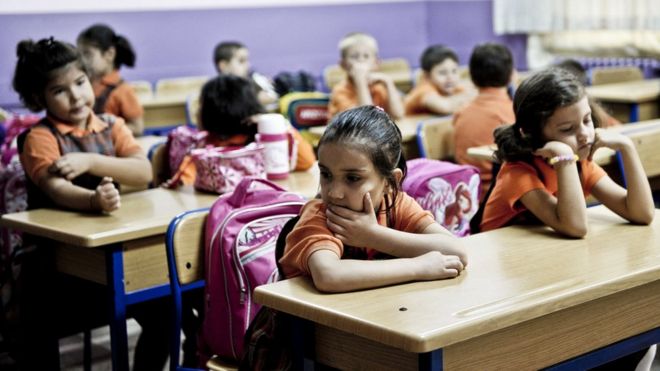 ❝ From September Turkey will have a new education curriculum and this 38-year-old mother is among many parents who are worried. The changes affect first, fifth- and ninth-grade students, and the main controversy surrounds the exclusion of the theory of evolution from secondary education.

"In classes, nine- and 10-year-old students have been memorising prayers from the Koran. I believe religious education should be given at home, not in schools," said the woman, who did not want to be named, due to security concerns.
❝ Other controversial changes include shortening the time allocated to studying the life of Turkey's secularist founder Mustafa Kemal Ataturk, an introduction to the concept of jihad and more classes on religion…
❝ The secular opposition in Turkey says President Recep Tayyip Erdogan and the governing AK party are trying to move the country away from its founding values, and make society more Islamic and conservative. Mr Erdogan has repeatedly expressed his ambition to raise pious generations…
RTFA. The changes are only a beginning. Enough to warm the cockles of any religious reactionary in other lands. The anti-science brigade doesn't especially care which religion supersedes science in which country. The backwardness of the Dark Ages is a satisfying start – for them.