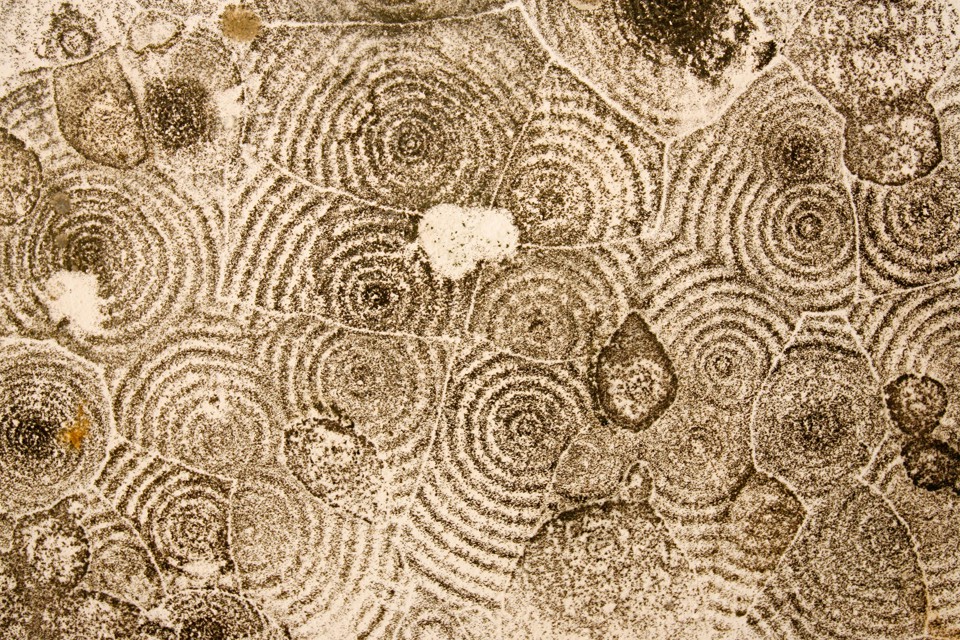 Not crop circles; but, mold patterns on a Louisiana ceiling after Katrina
❝ The flooding of Houston is a health catastrophe unfolding publicly in slow motion. Much of the country is watching as 50 inches of water rise around the chairs of residents in nursing homes and submerge semitrucks. Some 20 trillion gallons of water are pouring onto the urban plain, where developers have paved over the wetlands that would drain the water.
❝ The toll on human life and health so far has been small relative to what the images suggest. Authorities have cited thirty known deaths as of Tuesday night, while 13,000 people have been rescued…But the impact of hurricanes on health is not captured in the mortality and morbidity numbers in the days after the rain. This is typified by the inglorious problem of mold…
❝ Submerging a city means introducing a new ecosystem of fungal growth that will change the health of the population in ways we are only beginning to understand. The same infrastructure and geography that have kept this water from dissipating created a uniquely prolonged period for fungal overgrowth to take hold, which can mean health effects that will bear out over years and lifetimes.

The documented dangers of excessive mold exposure are many. Guidelines issued by the World Health Organization note that living or working amid mold is associated with respiratory symptoms, allergies, asthma, and immunological reactions. The document cites a wide array of "inflammatory and toxic responses after exposure to microorganisms isolated from damp buildings, including their spores, metabolites, and components," as well as evidence that mold exposure can increase risks of rare conditions like hypersensitivity pneumonitis, allergic alveolitis, and chronic sinusitis…
❝ Under [Trump], the funding of science to better understand the health consequences of mold exposure stands to be slashed. Meanwhile, the significance of mold in human lives is expected to increase with rising sea levels and catastrophic weather events. The perennial intensification of severe weather patterns over the Gulf Coast has made flooding increasingly common, at least partly due to the warming of the ocean.
❝ The Environmental Protection Agency, which would typically be tasked with mitigating the health effects of mold in Houston…stands only less equipped now to deal with environmental mold contamination than it did in New Orleans [after Katrina].
❝ In Houston, short-term rescue funding is essential to saving lives, and supporting it is politically necessary. But most of the looming threats to human wellbeing will outlast the immediate displays of concern. They will play out when the water and the cameras are gone, and when emergency funds allocated to Houston are exhausted. Mold will mark the divide between people who can afford to escape it and people for whom the storm doesn't end.
I'm waiting for the inevitable copout press conferences from Congress-creeps who will be "surprised" at the epidemic of respiratory and other ailments that will follow-on this weather event. They collaborate with fossil fuel-pimps like Trump, Ryan and McConnell on a day-by-day agenda committed to gutting science research and civic betterment.
RTFA for even more intimidating details.