❝ Six ad industry organizations have crafted an open letter complaining about changes coming to Apple's Safari browser, claiming that a new feature — "Intelligent Tracking Prevention" — will hurt both them — and the public.
Har!
❝ The technology's restrictions on cookies blah, blah, blah!…Some of the groups behind the statement include the Interactive Advertising Bureau, the American Advertising Federation, and the Data and Marketing Association…
❝ Intelligent Tracking Prevention will be present in both iOS 11 and macOS High Sierra, launching Sept. 19 and 25, respectively. Apple has argued for the technology as an essential privacy measure, since people may not want their data captured for purposes they don't consent to.
NSS. Mail me a penny postcard when someone discovers an honest and legitimate concern for public interests somewhere hidden in the bowels of ad agencies.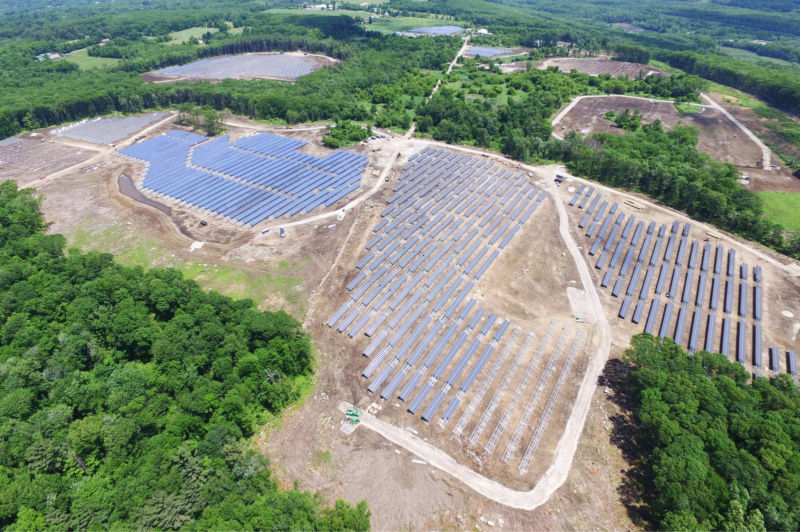 Formerly the largest piggery in Massachusetts
❝ The Department of Energy has announced that utility-grade solar panels have hit cost targets set for 2020, three years ahead of schedule. Those targets reflect around $1 per watt and 6¢ per kilowatt-hour in Kansas City, the department's mid-range yardstick for solar panel cost per unit of energy produced (New York is considered the high-cost end, and Phoenix, Arizona, which has much more sunlight than most other major cities in the country, reflects the low-cost end).
❝ Those prices don't include an Investment Tax Credit which makes solar panels even cheaper. The Energy Department said that the cost per watt was assessed in terms of total installed system costs for developers. That means the number is based on "the sales price paid to the installer; therefore, it includes profit in the cost of the hardware,"…
❝ The National Renewable Energy Laboratory, a DOE-funded lab that assesses solar panel cost, wrote that, compared to the first quarter in 2016, the first quarter in 2017 saw a 29-percent decline in installed cost for utility-scale solar, which was attributed to lower photovoltaic module and inverter prices, better panel efficiency, and reduced labor costs. Despite the plummeting costs for utility-scale solar, costs for commercial and residential solar panels have not fallen quite as quickly — just 15 percent and 6 percent, respectively…
❝ Now that utility-grade solar panels have crossed the finish line almost three years early, the DOE says that it's setting a new goal line for 2030…Through the DOE's Solar Energy Technologies Office, the federal department says it will start funding early stage projects focusing on "grid reliability, resilience, and storage."
Too bad – for the moment – we're saddled with an administration, White House, Congress and all – wholly committed to pimping for fossil fuel extraction and energy industries. Hopefully, the American electorate will learn to skip over idjits who prefer pimps to progress and elect some useful folks in 2018 and 2020.