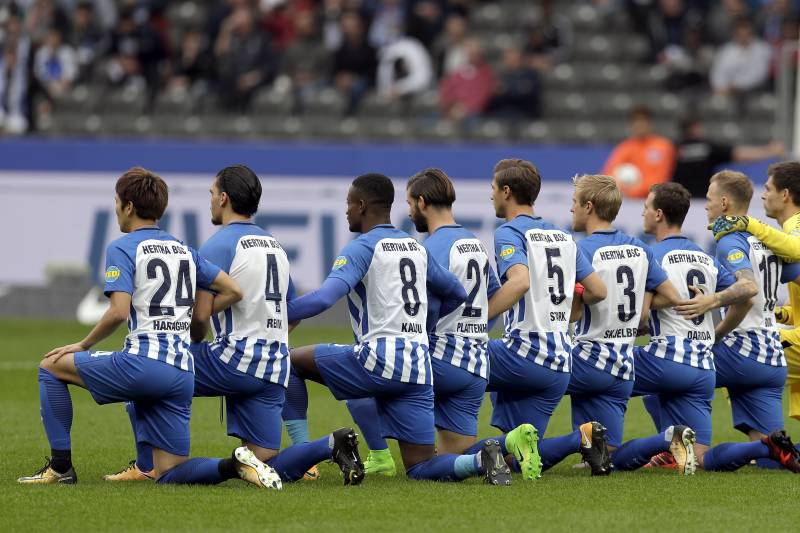 Click to enlarge — AP Photo/Michael Sohn
❝ Players and coaches from Bundesliga side Hertha Berlin kneeled prior to Saturday's game against Schalke in a stand "for diversity and against violence."

"Berlin is colourful," the public address announcer at Olympiastadion Berlin said, according to ESPN FC's Stephan Uersfeld. "Hertha BSC stands for diversity and against violence. For this reason, we are joining forces with the protest of our fellow American athletes to take a stand against discrimination. For a tolerant Berlin, both now and forevermore."
❝ …Ivorian forward Salomon Kalou told reporters Hertha Berlin got the idea to kneel from NFL players who have protested social injustice and racial inequality during the American national anthem.

"As Hertha we always fight against racism," he said, per Uersfeld. "For us, kneeling down is a way of fighting against this kind of behaviour. It should not exist in any kind of sport. Not in NFL, and not in football or soccer, like they call it in the U.S.—it shouldn't exist in any sport, period. For us, it's a good example to show."
Meanwhile, individual gutless owners of American sports teams, NFL officials and candyass politicians kissed Trump butt. They have taken a constitutional symbol of protest and tried to turn it into an act worthy of the sort of pseudo-patriotic witch-hunt we haven't witnessed since the inglorious days of McCarthyism.
I'll take constitutional guarantees over quasi-religious breast-beating any day
Who needs the draft when we have a willing pool of unemployed and undereducated?