Thanks, gocomics.org
❝ And that was just in 2015, according to a new global report on the consequences of humanity's actions.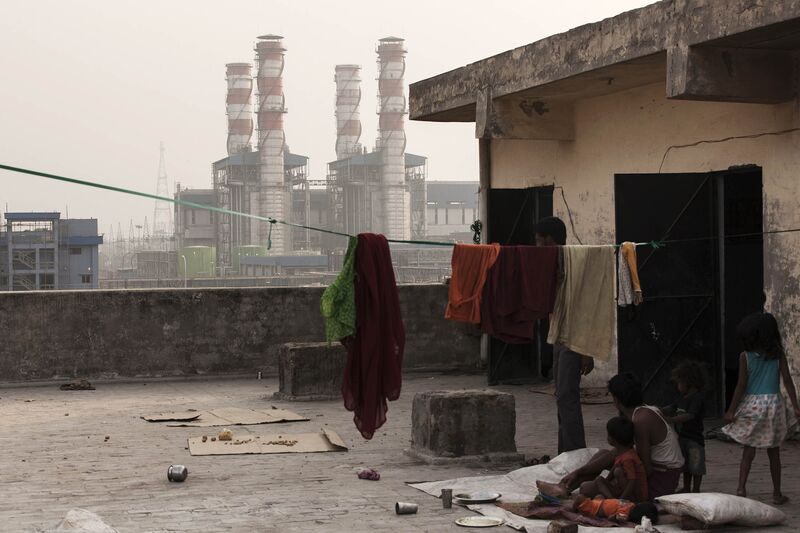 Delhi — Udit Kulshrestha/Bloomberg
❝ Pollution in all its forms killed 9 million people in 2015 and, by one measure, led to economic damage of $4.6 trillion, according to a new estimate by researchers who hope to put the health costs of toxic air, water and soil higher on the global agenda.

In less-developed nations, pollution-linked illness and death drag down productivity, reducing economic output by 1 percent to 2 percent annually, according to the tally by the Lancet Commission on Pollution and Health, published Thursday by the U.K. medical journal. The report is intended to illuminate the hidden health and economic consequences of harmful substances introduced into the environment by human activity…
❝ The report represents an "extremely comprehensive and rigorous quantification" of pollution costs, said Francesca Dominici, a professor of biostatistics at the Harvard T.H. Chan School of Public Health, who wasn't involved in the study.

"In the scientific community, I don't think there is any disagreement about the cost-benefit analysis of controlling pollution," Dominici said. Reducing air pollution from vehicles and power plants, for example, would simultaneously improve human health and reduce planet-warming carbon emissions, she said. "The major barrier has been political, but not scientific."
❝ As large as that figure is, it may even underestimate the full cost of pollution. Because the amount is derived from death rates, it doesn't include the price of medical expenditures or lost productivity from those sickened but not killed by pollution-related disease. And it doesn't measure some forms of pollution that are likely to have health effects, such as soil tainted with heavy metals or industrial toxins, because data to calculate its influence on health are insufficient.
No surprise when Bloomberg offers articles like this one. Folks selling services to investors realize that folks in all walks of life can develop a conscience about principled profit-making versus scumbags who don't care how their profits are acquired.

Wolf Science Center/Vetmeduni Vienna
❝ Following domestication, dogs should be more tolerant and cooperative with conspecifics and humans compared to wolves. This is at least often hypothesized. But looking at wolves and dogs in more naturalistic living conditions, however, speaks for a more cooperative behavior of wolves. Researchers at the Messerli Research Institute at Vetmeduni Vienna have now shown that the wild ancestors are actually excelling their domesticated relatives in teamwork. In an experimental approach dogs failed to cooperatively pull the two ends of a rope at the same time to obtain a piece of food. The wolves, on the other hand, showed perfect teamwork. They even waited for a partner to come before pulling the rope ends together for food. The study was published in PNAS.
❝ Dogs were domesticated so that man had a perfect companion at his side. Therefore, a lot of importance has been attached to properties such as tolerance and cooperative behavior. In line with this there are many hypotheses that dogs have also become more tolerant and co-operative with conspecifics compared to wolves. But The socio-ecological background of wolves, shows that they depend on cooperation for many aspects of their life from hunting to pup rearing, speaking against these theories.
❝ Researchers from the Wolf Science Center of the Vetmeduni Vienna now tested with a so-called "loose-string" test setup, whether the domesticated dog really is the better team player. The study showed that wolves can perfectly work together, if they need to co-operate for a piece of food. Similarly raised and kept dogs – although having the same interest in the task – in contrast were not able to co-operate and failed the test.
Must put the freebie publication of this study on my watch list.