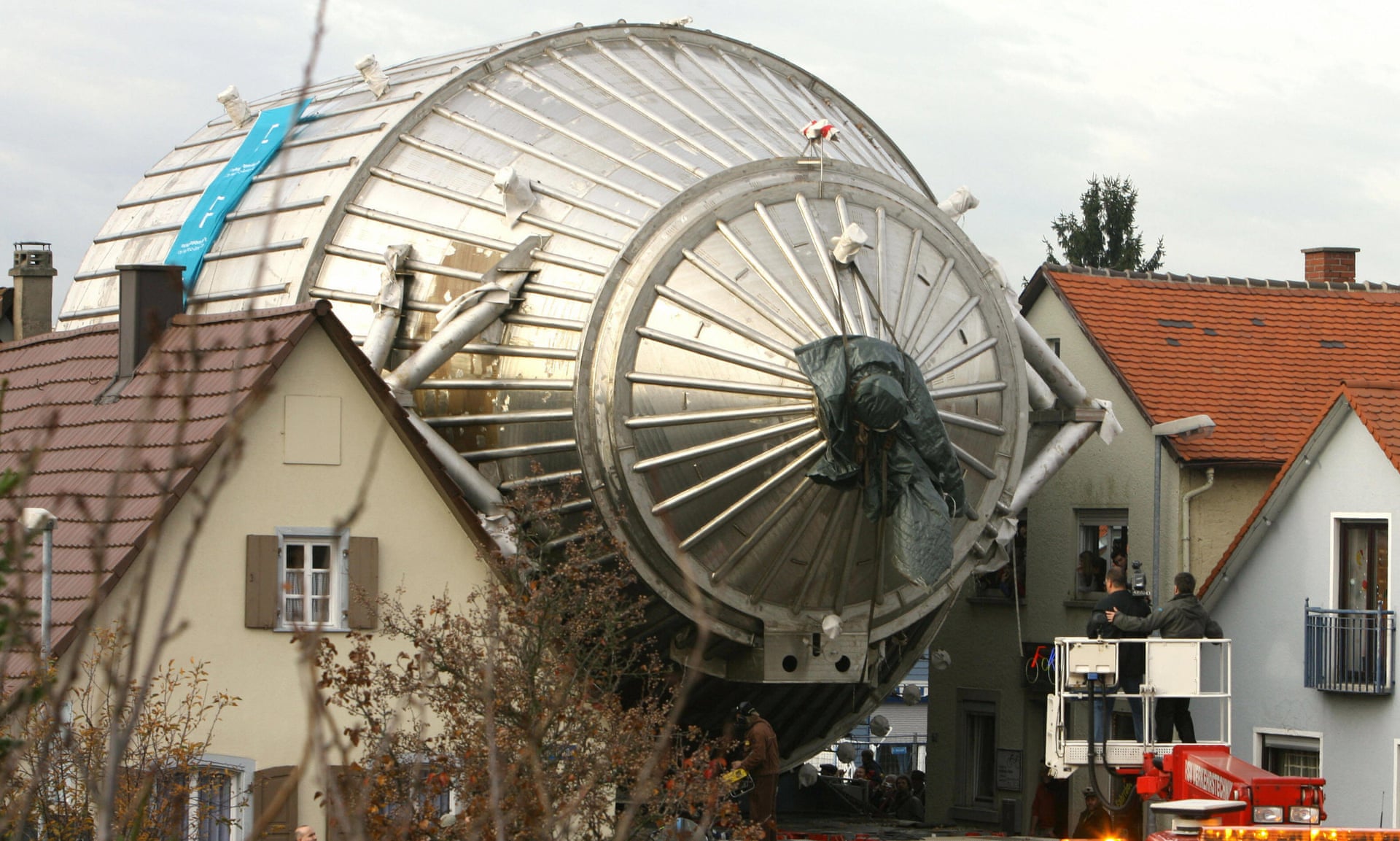 Moving Day 2006 – Click to enlarge — Michael Latz/AFP
❝ On the outskirts of Karlsruhe, in south-west Germany, engineers have buried a giant, stainless steel device, bigger than a blue whale, inside the town's institute of technology. The machine looks for all the world like a grounded zeppelin or a buried blimp.

In fact, the apparatus is one of the world's biggest vacuum chambers. Air pressure inside it is lower than that on the surface of the moon and it has been installed to help solve a single, intricate problem: finding the mass of the universe's most insignificant entity, the neutrino.
❝ "We have pushed technology to the limit in building Katrin," says the project's leader, Guido Drexlin. "Apart from creating a near perfect vacuum inside its huge chamber, we also have to keep the temperature of the tritium, which is the machine's source of neutrinos, inside the device to a constant 30C above absolute zero. We have also had to take incredible care about the magnetic fields inside the machines. Essentially, we have had to demagnetise the whole building…"
❝ It has taken more than a decade of planning and construction to put Katrin together. Its price tag, just over €60m, has been met by the German taxpayer via the country's state-funded Helmholtz Association, with a further €6m chipped in by US, Russian, Czech and Spanish scientists who will have a minor involvement with the project.

Final trials are now being completed and full operations are set to begin in June, though it will take a further five years of gathering data before scientists can expect to have enough information to make an accurate assessment of the neutrino's mass.

"Even then, we may have to go to a second phase of operations to get our answer," says Drexlin. "We are moving into unknown territory here."
OK. Anyone here who believes Trump's bullshit about government, nature or society may as well leave, now.
Here's the link, again, to the article – for folks who appreciate government sponsorship of basic scientific research that brings more knowledge to our species.