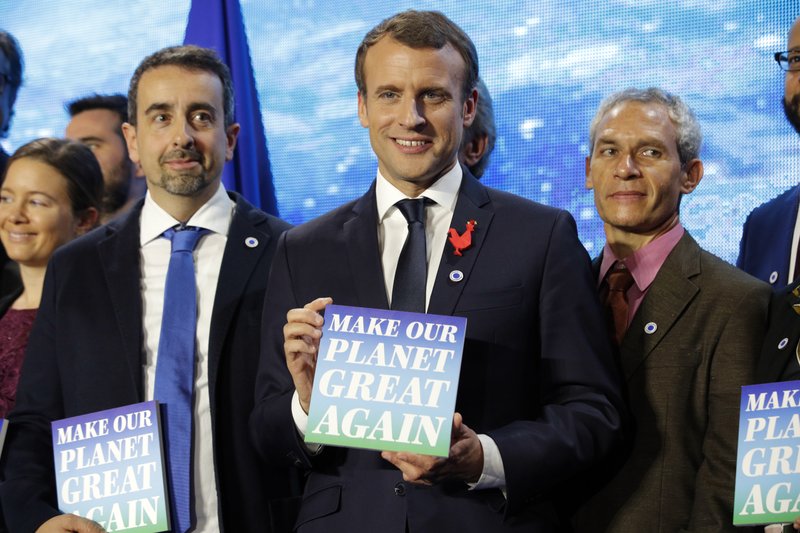 It is a dream come true for U.S.-based climate scientists — the offer of all-expenses-paid life in France to advance their research in Europe instead of in the United States under climate skeptic President Donald Trump, two of the winners say.

American scientist Camille Parmesan and British scientist Benjamin Sanderson are among the 18 initial winners, including 13 based in the U.S., of French President Emmanuel Macron's "Make Our Planet Great Again" climate grants…
A scientist from the University of Texas at Austin, Parmesan is a leader in the field on how climate affects wildlife. She lived for a few years in Britain for family reasons and was considering returning to the U.S. until Trump's election.

"He very, very rapidly has been actively trying to erode science in the U.S.A. and in particular climate science," she said. "And it's hard for two reasons: Funding is becoming almost impossible, and in a psychological sense."

Parmesan answered with enthusiasm Macron's appeal for climate researchers to come work in France, minutes after Trump's rejection of the Paris climate accord. "It gave me such a psychological boost, it was so good to have that kind of support, to have the head of state saying I value what you do," she said.
One positive result of commercial and economic globalization is the spread of technology, the role science and skills play in building healthier, more economically sound worldwide commerce. Now, every time some dolt like George W Bush or his successor at stupid, our Fake President Trump, wins the ignoranus election special – that becomes an opportunity for some other nation with an educated outlook to entice our best and brightest to move their studies and research to their land.