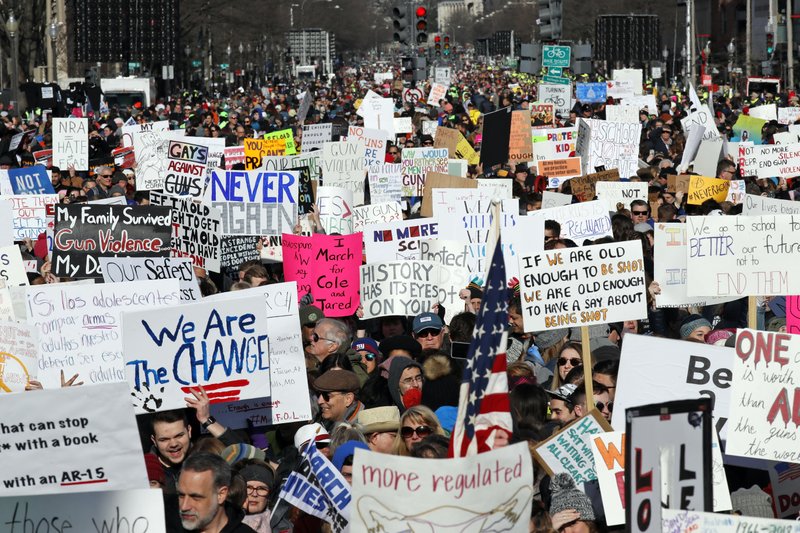 ❝ In a historic groundswell of youth activism, hundreds of thousands of teenagers and their supporters rallied across the U.S. against gun violence Saturday, vowing to transform fear and grief into a "vote-them-out" movement and tougher laws against weapons and ammo.

They took to the streets of the nation's capital and such cities as Boston, New York, Chicago, Houston, Minneapolis, Phoenix, Los Angeles and Oakland, California – and Santa Fe, New Mexico – in the kind of numbers seen during the Vietnam era, sweeping up activists long frustrated by stalemate in the gun debate and bringing in lots of new, young voices.

They were called to action by a brand-new corps of leaders: student survivors of the school shooting in Parkland, Florida, that left 17 people dead Feb. 14…
❝ "We will continue to fight for our dead friends," Delaney Tarr, a Parkland survivor, declared from the stage. The crowd roared with approval as she laid down the students' central demand: a ban on "weapons of war" for all but warriors.

Student protesters called for a ban on high-capacity magazines and assault-type weapons like the one used by the killer in Parkland, comprehensive background checks, and a higher minimum age to buy guns.
Overdue. As in the VietNam War era, this might be the time when a single issue serves as dividing line between courage and progress on the Left – and predictable do-nothing policies from centrist Democrats, Republicans committed to 18th Century bigotry, ignoranus social policies.