Thanks, gocomics.org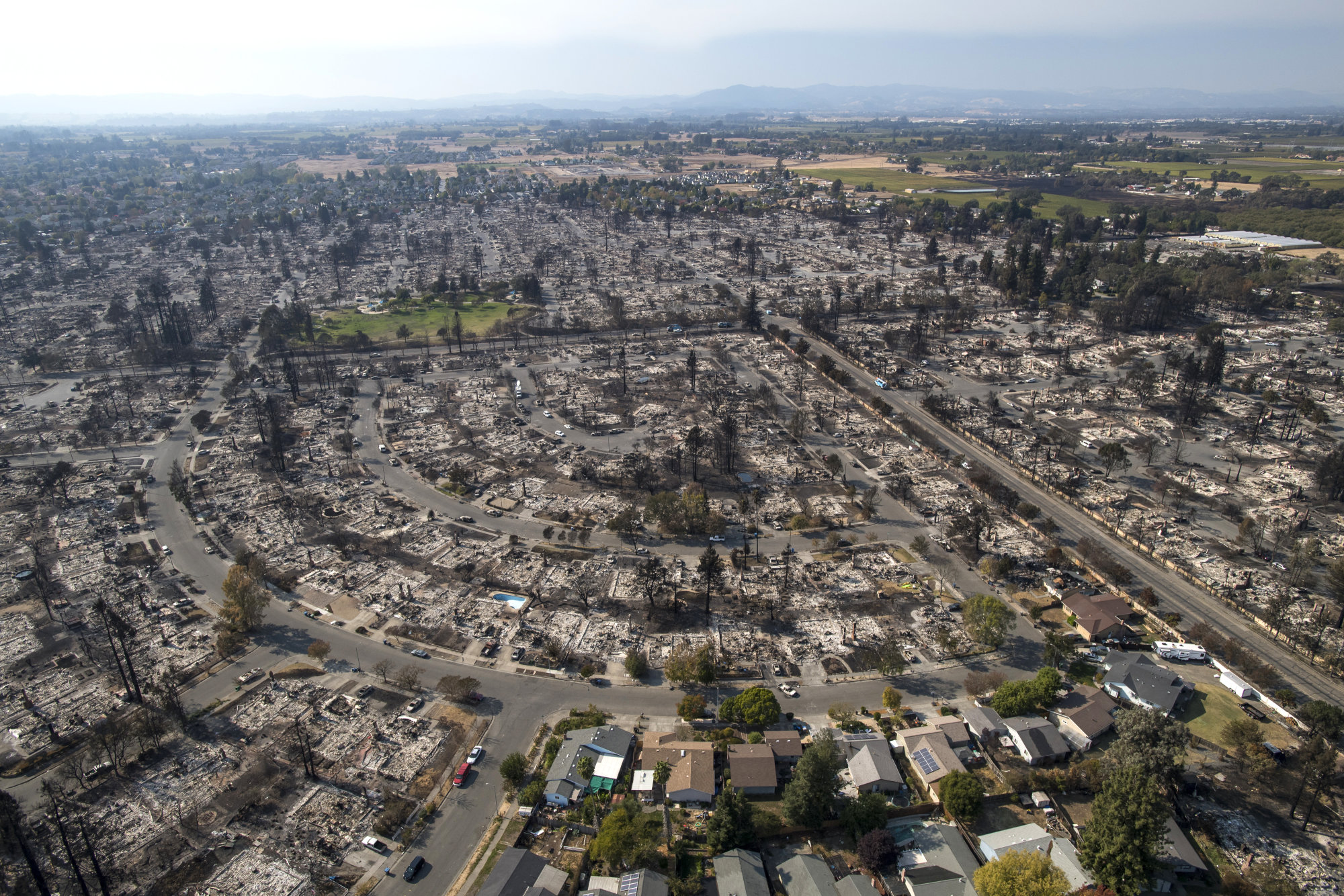 Click to enlarge — David Paul Morris/Bloomberg
❝ Late Friday, California confirmed what many across the state's devastated wine country had suspected for months: Equipment owned by utility giant PG&E Corp. ignited some of the deadliest and most destructive wildfires that tore through their homes in October.

The most unexpected and crucial part of the findings, though, was at the very bottom of California's end-of-day statement: The state had found evidence of alleged violations of law by PG&E in connection with eight of the blazes…
❝ That evidence — which California's fire agency has now sent to county prosecutors — could make or break PG&E in the dozens of lawsuits over the Northern California fires that altogether killed 44 people, consumed thousands of homes and racked up an estimated $10 billion in damages. The alleged violations could also expose PG&E to criminal charges only two years after the San Francisco company was convicted of breaking safety rules that led to a deadly gas pipeline explosion in San Bruno, California.
I have no idea what portion of American corporations are dumb enough to think that skipping safety requirements to save a buck or two ever pays off over time. PG&E has to be as short-sighted as derivative investors in 2007 – or Trump voters.
Early on the morning of May 19, 2018, residents on the outskirts of the town Orizaba, Veracruz — close to the bordering state of Puebla in Mexico — woke up to a loud crash.

A train with 39 cars and four locomotives crashed into another train when approaching the station. The conductor of the approaching train attempted to brake, but couldn't because the brakes were cut, according to the Grupo Mexico Transporte, the company that owns and runs the train…
Grupo Mexico Transporte instantly called this act sabotage and pointed to the culprits as being organized crime. The company ruled out the possibility of human error because of the way the trains are remotely operated…
There has been a 476-percent increase of the number of robberies similar to the one that occurred in Orizaba…In the first quarter of 2018, there was a robbery of a train every 2.5 hours, according to the Regulatory Agency for Rail Transport.
Where's Roy Rogers when you need him?