Thanks, gocomics.org

NY Gov. Cuomo's top advisor sentenced to six years – Pickett/NYTimes
❝ Joseph Percoco, a former top adviser and confidant to Gov. Andrew M. Cuomo, was sentenced to six years in prison on Thursday in a case that cast a long and unflattering shadow over the Cuomo administration.

Mr. Percoco, 49, was convicted in March of soliciting and accepting more than $300,000 in bribes from executives of two companies with state business in return for taking official actions on the firms' behalf.
❝ "I hope that this sentence will be heard in Albany," Judge Valerie E. Caproni, of Federal District Court in Manhattan, said before sentencing.

She said the case had reached to the highest level of the executive branch. "Frankly, it's not surprising that the citizenry of this state have absolutely lost faith in their government."
My question, of course, is…Anyone surprised?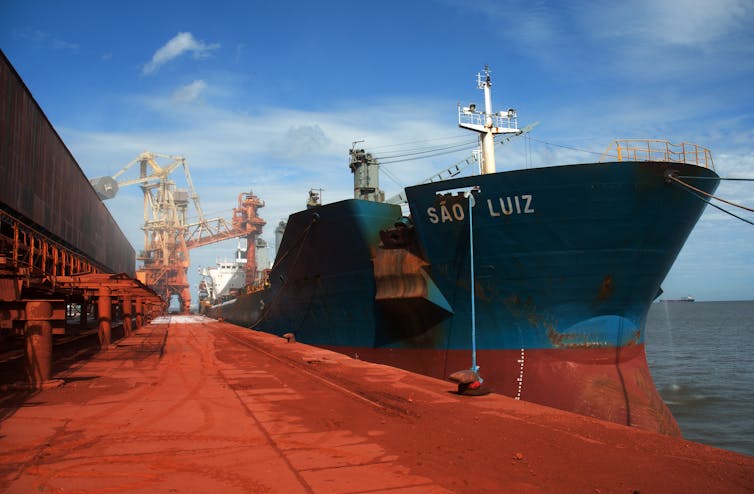 Loading bauxite
❝ Think of a dangerous cargo and toxic waste or explosives might come to mind. But granular cargoes such as crushed ore and mineral sands are responsible for the loss of numerous ships every year. On average, ten "solid bulk cargo" carriers have been lost at sea each year for the last decade.
❝ Solid bulk cargoes – defined as granular materials loaded directly into a ship's hold – can suddenly turn from a solid state into a liquid state, a process known as liquefaction. And this can be disastrous for any ship carrying them – and their crew.

In 2015, the 56,000-tonne bulk carrier Bulk Jupiter rapidly sunk around 300km south-west of Vietnam, with only one of its 19 crew surviving. This prompted warnings from the International Maritime Organisation about the possible liquefaction of the relatively new solid bulk cargo bauxite (an aluminium ore).
❝ A lot is known about the physics of the liquefaction of granular materials from geotechnical and earthquake engineering. The vigorous shaking of the earth causes pressure in the ground water to increase to such a level that the soil "liquefies". Yet despite our understanding of this phenomenon, and the guidelines in place to prevent it occurring, it is still causing ships to sink and taking their crew with them.
Cripes. I've been aware of liquefaction for years. Never occurred to me it might be a problem with deep water bulk carriers.