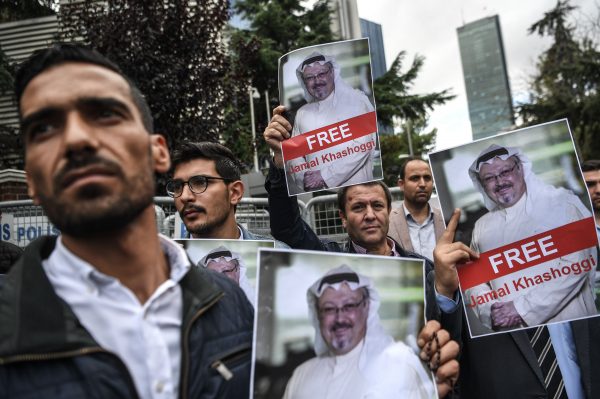 Ozan Kose/AFP
❝ Jamal Khashoggi entered the Saudi counsulate in Istanbul on October 2 to obtain a document certifying he divorced his ex-wife – never to be seen since.

Turkish sources have told media outlets they believe the Saudi writer and critic was killed inside the consulate in what they describe as "premeditated murder".
❝ Saudi officials have countered that claim, insisting Khashoggi left the building before vanishing.
The Latest
❝ The Washington Post reports Saudi Crown Prince Mohammed bin Salman himself ordered an operation targeting Jamal Khashoggi.

Based on US intelligence intercepts, Saudi officials were heard discussing a plan to lure Khashoggi from the US state of Virginia, where he resides, back to Saudi Arabia where he would be detained, the newspaper said, citing unnamed US officials…
❝ A team of 15 Saudis flew into Istanbul last week, drove to the Saudi consulate and then departed that same day on private planes headed for Cairo and Dubai. This is according to The Washington Post, which has been tracking the disappearance of Saudi journalist Jamal Khashoggi.

SHANE HARRIS: I don't think we fully know the intent. And I think you're right. Fifteen people is a lot to kill one individual. And a former U.S. official I spoke to about this said it actually bears a lot of the hallmarks of a rendition or a kidnapping operation. But we still don't know. But what we are understanding is that the U.S. government was picking up intelligence that the Saudis wanted for some time to capture Khashoggi – not clear whether they wanted to capture and prosecute him or whether they want to interrogate him or kill him but that there was some high-level interest on the part of the government of getting him in some way.
No mention of any attempt by anyone in the White House or Trumpo to warn Khashoggi. Something required by US law and convention – even for non-citizens.