Thanks, gocomics.org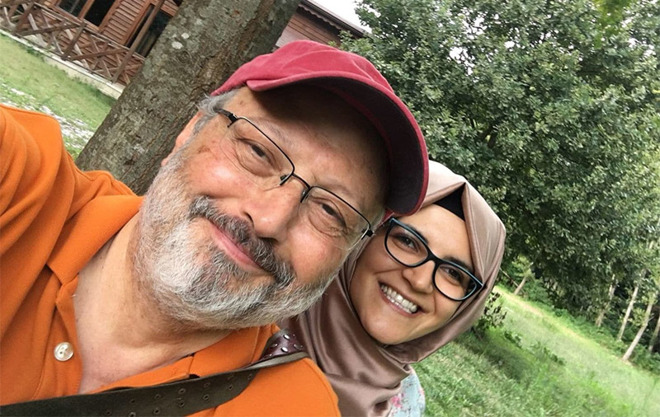 Jamal Khashoggi and fiancee Hatice Cengiz
According to a Sabah Gazetesi report, Khashoggi recorded what is believed to be audio evidence of his death inside the Saudi Arabian consulate in Turkey more than a week ago. Sabah Washington correspondent Ragip Soylu posted a screenshot of the story to Twitter on Friday.

In its report, Sarah claims Khashoggi recorded questioning by a "hit squad." A copy of the audio file was synced with Khashoggi's iPhone, which was in the possession of fiancee Hatice Cengiz. Cengiz was waiting outside the consulate during the alleged exchange, assumedly within Bluetooth range of the Apple Watch in question…
While Saudis were able to wipe certain files from Khashoggi's device or devices, they were less successful in deleting data from iCloud, the report says.
Don't hold your breath waiting for the truth to come out voluntarily from the criminal Saudi royals…or their pimp in the White House.
❝ …if what is alleged about the disappearance on Oct. 2 of Post columnist Jamal Khashoggi is true — that he was lured into the Saudi consulate in Istanbul, then murdered and dismembered by a team dispatched by the Saudi royal court — it would be in a category of depravity all its own.

What makes Khashoggi's alleged murder so chilling is its sheer brazenness…
❝ There is much we don't know. Even if the intent was merely to abduct Khashoggi and not to kill him, how is it possible that Saudi Arabia — a vital U.S. ally that claims to be a responsible actor on the global stage — could consider such an action? Perhaps the reason is that those who use violence and repression to censor the media rarely face significant consequences.
Trump and the papier mache Congress will do little more than prattle about our "standards" and perhaps delay shipments of weapons and armaments to the Saudi royals a couple of months. Imperial comrades-in-arms rarely separate longer than is needed to impress a few conservative editors.