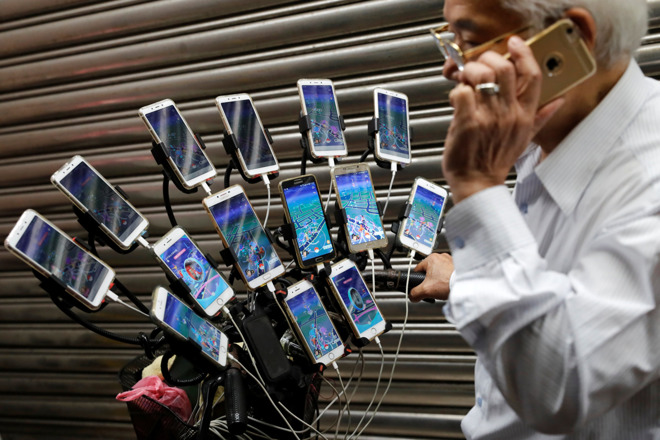 70-year-old Chen San-yuan from Taipei, Taiwan has become famous for riding a bicycle equipped with 15 smartphones, all used for playing Pokemon Go.
OK.
❝ "Two days after skipping a visit to an American military cemetery near Paris because it was raining, President Donald Trump called for effectively disenfranchising overseas military members voting in Florida, raising further questions about the draft-evading president's commitment to the armed services…
❝ "It's a nice commentary from the commander-in-chief on Veterans Day," said Will Fischer, who served in Iraq as a Marine and is now with the VoteVets group.
❝ Less than two-and-a-half hours after Trump's 7:44 a.m. tweet, the White House announced that Trump would remain there with no public events for the rest of the day.

"He's not going to Arlington. He's not even going up to Walter Reed," Fischer said. "Once again, Donald Trump only sees the military as props. If it doesn't benefit him, he's not going to do it.."
❝ The White House did not respond to repeated queries about the president's lack of a schedule on Monday. Nor did it respond to questions about Trump's decision to cancel a visit to the American cemetery in France on Saturday and instead remain indoors tweeting, rather than go to an alternate site closer by."
The gang of pretend-Republicans currently stealing DC blind will – of course – back their Fearless Leader all the way.
Thanks, gocomics.org