Thanks to David Gura for pointing this out.
❝ You know the story. Despite technologies, regulations, and policies to make humanity less of a strain on the earth, people just won't stop reproducing. By 2050 there will be 9 billion carbon-burning, plastic-polluting, calorie-consuming people on the planet. By 2100, that number will balloon to 11 billion, pushing society into a Soylent Green scenario…

But what if they're wrong? Not like, off by a rounding error, but like totally, completely goofed?
❝ That's the conclusion Canadian journalist John Ibbitson and political scientist Darrell Bricker come to in their newest book, Empty Planet, due out February 5th. After painstakingly breaking down the numbers for themselves, the pair arrived at a drastically different prediction for the future of the human species. "In roughly three decades, the global population will begin to decline," they write. "Once that decline begins, it will never end.
I only disagree with the last sentence. Just as – over time – even people ignorant enough to vote for someone like our Fake President will come to understand the economics of birth control. You can afford a better life by not trying to create and support an excess population. That translates from simply staying comfortably alive to how you order your life and living into any number of additional qualities of time spent doing what you'd like to be doing instead of just treading water to afford basic necessities for your family.
Women in particular can order their own lives and lifestyle beyond biblical rules and backwards politicians. Mostly men. All of that inevitably continues to change over time.
While there are many factors outside birth and death helping these decisions along, I believe they will also constrain the potential for our species dying off. We're just as likely to come up with alternatives to gestation as evolved within our species. We are bright enough – with sufficient education – to redirect our lives' path beyond the scope of evolution.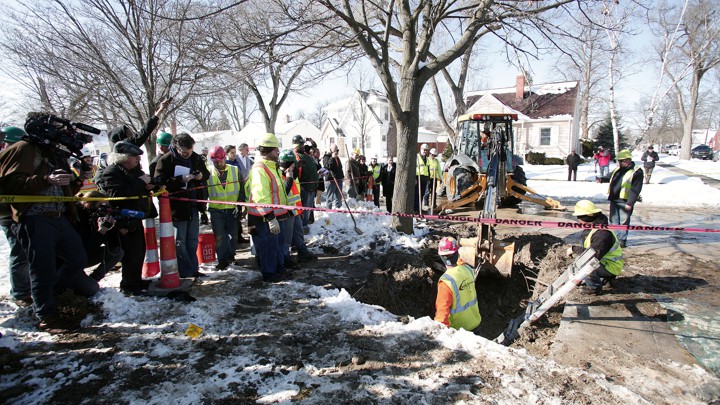 ❝ …Volunteer computer scientists, with some funding from Google, designed a machine-learning model to help predict which homes were likely to have lead pipes. The artificial intelligence was supposed to help the City dig only where pipes were likely to need replacement. Through 2017, the plan was working. Workers inspected 8,833 homes, and of those, 6,228 homes had their pipes replaced — a 70 percent rate of accuracy.

Heading into 2018, the City signed a big, national engineering firm, AECOM, to a $5 million contract to "accelerate" the program, holding a buoyant community meeting to herald the arrival of the cavalry in Flint…
❝ As more and more people had their pipes evaluated in 2018, fewer and fewer inspections were finding lead pipes…The new contractor hasn't been efficiently locating those pipes: As of mid-December 2018, 10,531 properties had been explored and only 1,567 of those digs found lead pipes to replace. That's a lead-pipe hit rate of just 15 percent, far below the 2017 mark…
❝ There are reasons for the slowdown. AECOM discarded the machine-learning model's predictions, which had guided excavations. And facing political pressure from some residents, Mayor Weaver demanded that the firm dig across the city's wards and in every house on selected blocks, rather than picking out the homes likely to have lead because of age, property type, or other characteristics that could be correlated with the pipes.

After a multimillion-dollar investment in project management, thousands of people in Flint still have homes with lead pipes, when the previous program would likely have already found and replaced them.
Life in America seems about as predictable as ever. Doesn't have to be. Still, don't get smug about analyzing the causes. Just fix it!