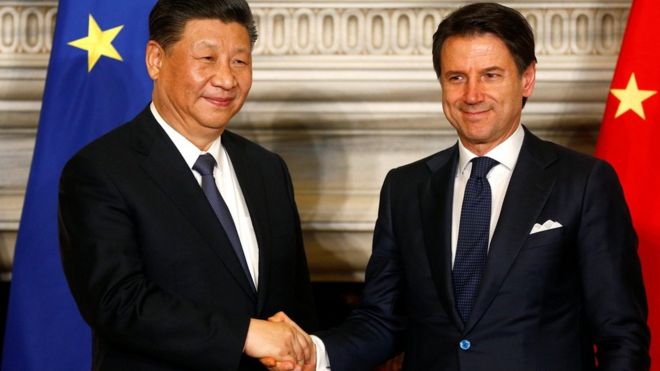 Reuters
❝ Italy has become the first developed economy to sign up to China's global investment programme which has raised concerns among Italy's Western allies.

A total of 29 deals amounting to €2.5bn ($2.8bn) were signed during Chinese President Xi Jinping's visit to Rome…
❝ The new Silk Road has another name – the Belt and Road Initiative (BRI) – and it involves a wave of Chinese funding for major infrastructure projects around the world, in a bid to speed Chinese goods to markets further afield. Critics see it as also representing a bold bid for geo-political and strategic influence…
❝ The levels of debt owed by African and South Asian nations to China have raised concerns in the West and among citizens – but roads and railways have been built that would not exist otherwise..
Here I sit in the richest, most powerful country in world history. Our roads suck. Bridges suck. Water systems throughout the land are polluted. And more. Our government doesn't make infrastructure a priority. Our politicians are glad to blather about their support for rebuilding and repairing national infrastructure decades old – as long as they aren't actually pushed into doing a damned thing.
New Silk Road, old Silk Road. If someone is putting their political and economic clout behind better, easier commerce…try to keep the whining down to a minimum, folks. You're on the wrong side of history. I know what construction contracts look like going back to the original build-out of the US Interstate System. It was justified to keep our military happy. Which was Cold War bullshit. The victory was owned by US trucking companies.