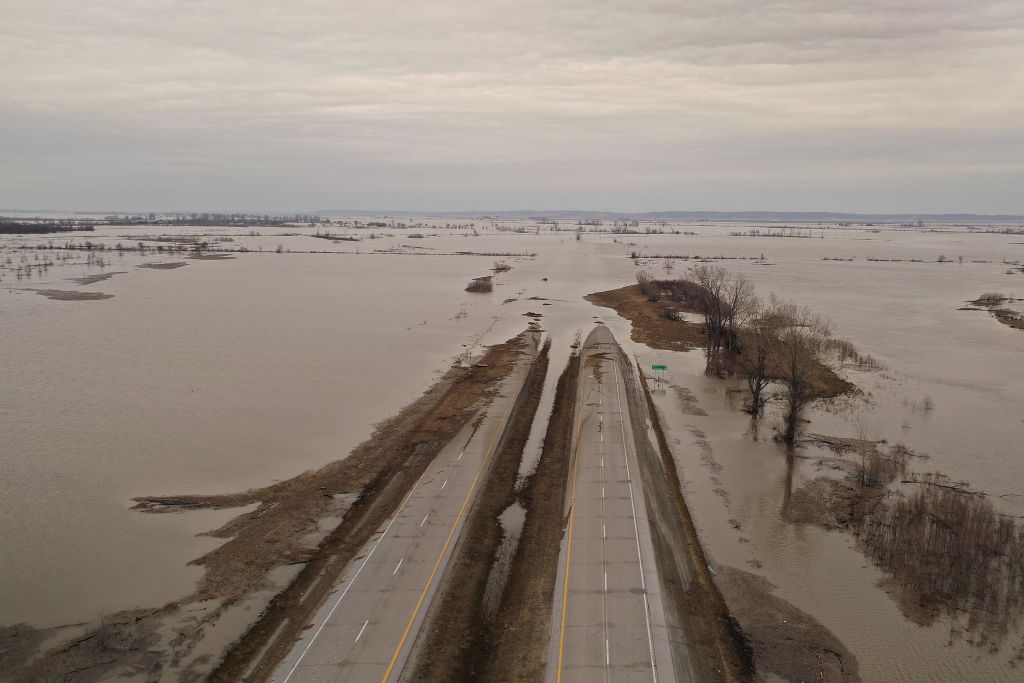 Click to enlarge — Scott Olson/Getty
❝ The Missouri River used to be out of control. "It cuts corners, runs around at nights, fills itself with snags and traveling sandbars, lunches on levees, and swallows islands and small villages for dessert," is how the humorist George Fitch (pretty accurately) described it in 1907.

It was also hugely variable in size and shape. Below Yankton, South Dakota, where a narrow valley gave way to a flat expanse five to 18 miles wide, the Missouri and its various secondary channels, sandbars and the like "had a width of 1,000 to 10,000 feet during normal flow periods," historian Robert Kelley Schneiders wrote in 1999. During a flood, which usually came in April when snow melted in the Great Plains, or in June when it melted in the Rocky Mountains, the river could become a "foaming, misdirected monster" that covered the entire valley, sometimes with ice as well as water.

Afterward, the Missouri would often resettle along an entirely new course…
❝ When Fitch wrote that in 1907, local officials and the U.S. Army Corps of Engineers had already been trying and mostly failing for several decades to persuade the Missouri to behave more like they thought a river should, flowing in a single channel navigable by barges and staying off neighboring cornfields and out of houses…

This year, even though it isn't expected to set any overall runoff records, is looking even worse. Floodwaters breached levees in more than 40 places along the Missouri in mid-March, and more than a month later much of the river valley from Omaha and Council Bluffs southward to Missouri — most of which, because the river channel hugs the hills on the Nebraska side, is in Iowa — is still soaked. Interstate 29, which connects the Omaha-Council Bluffs metropolitan area to points south, is closed to just past the Missouri state line and not expected to reopen until June.
RTFA. Interesting, confirms most folks' cynicism about plans and programs succeeding governments have implemented to greater or lesser degrees of success. For a while. When it works – for a while – everyone figures all the problems are solved. For a while.