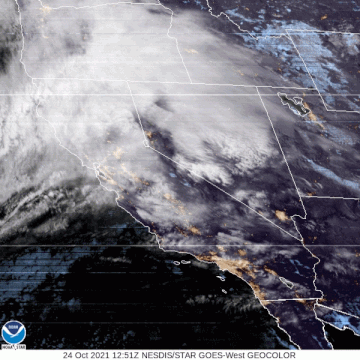 A "bomb cyclone" in the Pacific is dumping extreme rain and several feet of snow on California. The wild weather follows a summer of extreme drought and wildfires, and it could bring flooding, mudslides and debris flow to the parched and wildfire-scarred Golden State.

The term "bomb cyclone" refers to the rapid intensification process — "bombogenesis" — that forms it. Such storms occur when pressure in the central region of the storm descend by at least 24 millibars…in 24 hours, according to the National Oceanic and Atmospheric Administration (NOAA)…
The National Weather Service in Sacramento issued numerous warnings on Sunday concerning extreme rainfall, flooding and debris flows. In some regions, rainfall may reach into the double digits in inches.
RTFA because you should add it to that database of info about climate change that's beginning to form up there in your cerebral cortex. We're all sort of weather freaks here at Lot 4…for one reason or another. So, this gave rise to discussion how and when this event references climate change.
The only point I raised in the discussion I need to offer here, too. Climate is governed by what is called flywheel effect. Look it up if you want to learn about the physics involved. What it means is that fixing all the problems needing to be fixed, answering all the questions asked, might stop the cause-and-effect relationships that bring about events like this…maybe, just maybe, in a couple decades. Even if you succeeded making those changes in a week or two.
Which ain't happening, either.