…I can appreciate the music, video and production values of a lot of what's around. This is one.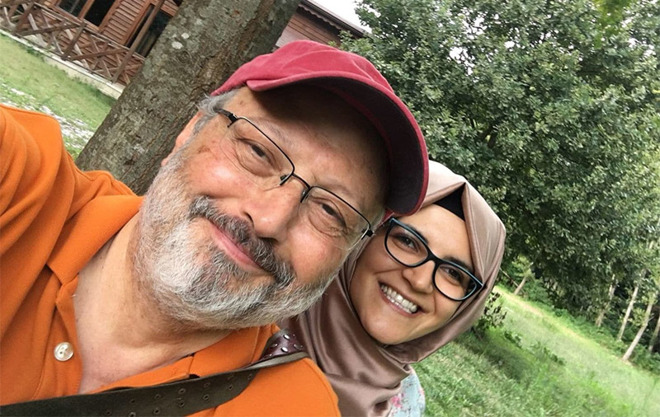 Jamal Khashoggi and fiancee Hatice Cengiz
According to a Sabah Gazetesi report, Khashoggi recorded what is believed to be audio evidence of his death inside the Saudi Arabian consulate in Turkey more than a week ago. Sabah Washington correspondent Ragip Soylu posted a screenshot of the story to Twitter on Friday.

In its report, Sarah claims Khashoggi recorded questioning by a "hit squad." A copy of the audio file was synced with Khashoggi's iPhone, which was in the possession of fiancee Hatice Cengiz. Cengiz was waiting outside the consulate during the alleged exchange, assumedly within Bluetooth range of the Apple Watch in question…
While Saudis were able to wipe certain files from Khashoggi's device or devices, they were less successful in deleting data from iCloud, the report says.
Don't hold your breath waiting for the truth to come out voluntarily from the criminal Saudi royals…or their pimp in the White House.
I don't especially do reviews of hardware or software. Folks who know me well know I spent 22 years in the IBM/Microsoft environment and then walked away [happily] into the Apple world in 2005 with the advent of the Mac Mini. As Steve Jobs expected, many folks like me became a switcher.
This blog post from Molly Watt was suggested by my friend Om Malik and deserves attention because of Molly's special needs – and uses of the Apple watch. Interesting, useful, a worthwhile read.
Having known about the Apple Watch for some time and knowing lots of my friends were planning to buy one, I was sceptical as my needs are quite different to that of those of the sighted and hearing.

I have to rely on specific accessible features.

However, I was curious as Apple products have been more than just up market gadgets to me, they really have been my access to the many things most take for granted but that those of us with deafblindness, particularly struggle with.
I was born deaf and registered blind when I was 14. The condition I have is Usher Syndrome Type 2a. I am severely deaf and have only a very small tunnel of vision in my right eye now so I was concerned not just about the face size but how busy it would appear to me and also if there would be an uncomfortable glare…
I should explain that I wear two digital hearing aids and communicate orally – not everybody with usher syndrome communicates orally and there are not two people with the condition the same, but there are similarities.
I had been wearing a Bradley Timepiece since last summer and love both the retro look and the practicality of a completely tactile watch brilliant and stylish, quite a rarity when it comes to anything designed specifically for people with disabilities.

I can read the time by touch completely independently with my Bradley and I still love it…

I decided to order the Apple Watch Sport 42mm (the bigger face size) with white strap so I'd not lose it quite so easily…

I was surprised to receive an email the day before launch date to say my Apple Watch had been dispatched and you guessed it "I was excited!"

I was delighted when the long white box arrived on Friday morning as I was heading into London that afternoon.