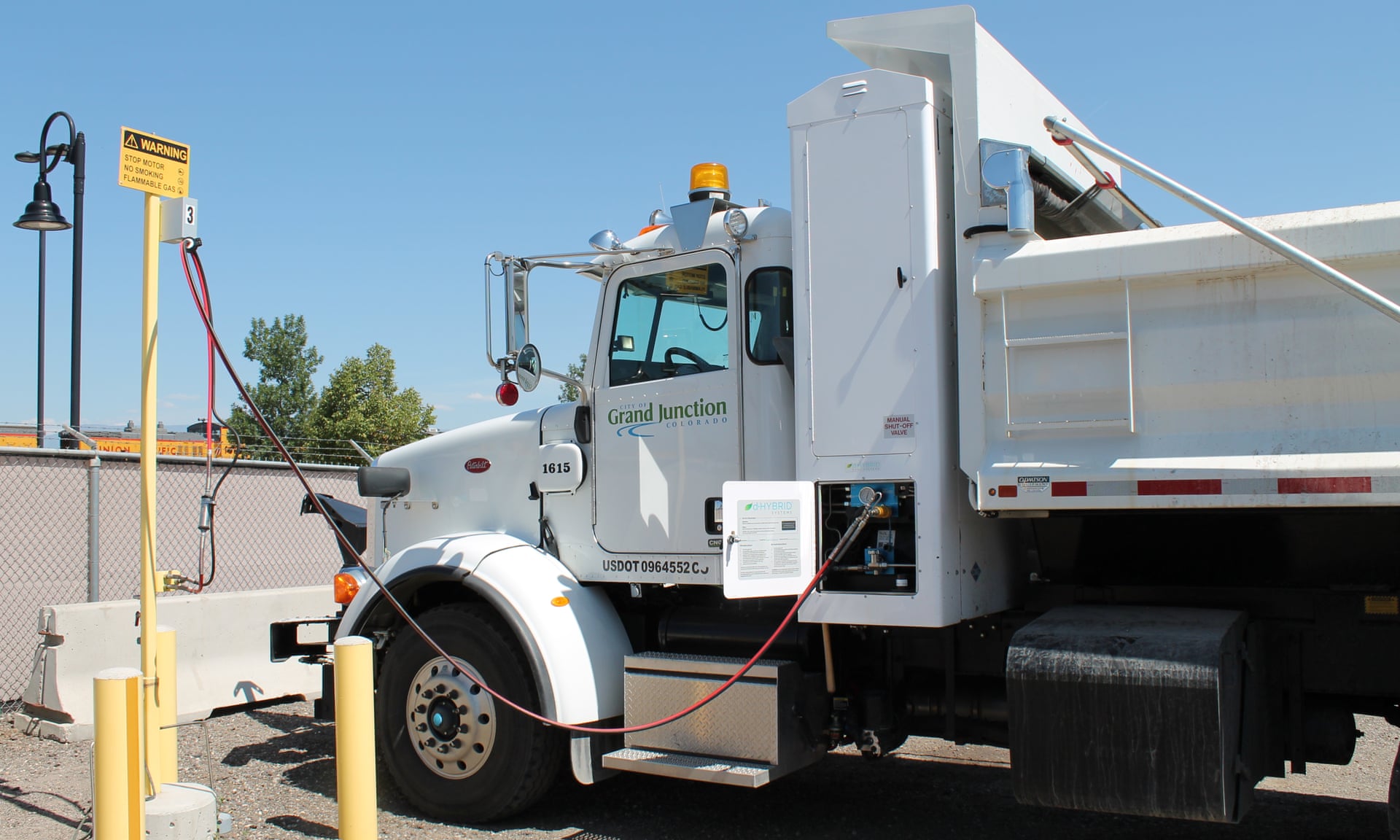 Click to enlarge — Photo/City of Grand Junction
❝No matter how you spin it, the business of raw sewage isn't sexy. But in Colorado, the city of Grand Junction is making huge strides to reinvent their wastewater industry – and the result is like finding a diamond in the sludge.

The Persigo Wastewater Treatment Plant is processing 8m gallons of Grand Junction's human waste into renewable natural gas also known as biomethane. The RNG is then used to fuel about 40 fleet vehicles, including garbage trucks, street sweepers, dump trucks and transit buses.
❝It's possible through a process called anaerobic digestion, which breaks down organic matter into something called raw biogas. The biogas is then collected and upgraded to RNG – at pipeline quality – and can be used as electricity, heat or transportation fuel.

Turning wastewater into biogas is not new in the US. For decades, biogas has been used for heating or to power generators and micro-turbines to produce electricity.

"But as far as we know, we are the only municipal wastewater facility in the nation producing biogas used as vehicle fuel," said Dan Tonello, wastewater services manager for Grand Junction…
❝The environmental benefits are abundant for Grand Junction. According to Bret Guillory, utility engineer for the city, "we may be reducing greenhouse gases by as much as 60% to 80% … This is compared to the old process of flaring off the raw gas at the plant, and burning diesel and gasoline in some of our larger fleet equipment."

Developed over 10 years, the project is worth $2.8m. The cost to produce and compress the RNG is around 80 cents per GGE, while it's sold to the fleet department for $1.50 per GGE.

"The project will pay for itself in around seven years," Guillory said. "Not a bad return on the investment…"
❝Regardless of the source and use, greenhouse gas emissions decrease when fossil fuels (like natural gas) are replaced by RNG, says the Environmental Protection Agency (EPA). As well, methane from rotting waste that otherwise would have been absorbed into the atmosphere is now used as a renewable energy source.

RNG is practical because it can fuel anything that runs on natural gas. And according to the EPA, it's also produced, transported and used in accordance with all the same rules as fossil natural gas.
I keep forwarding articles like this to the nearby city's Wastewater Plant management. They have a steady supply-side stream from 60-70,000 citizens. They've installed a solar field which provides significant power. I'm confident they know about progressive systems like this. What I don't know is whether the administrative structure is run by petty bureaucrats happy with a job and not interested in rocking the boat – or if operations are run by folks interested in change and progress.
I keep on trying.
BTW, if you ever wander through Grand Junction during late summer harvest season, check out every roadside stand you see for the best peaches in the Rockies.