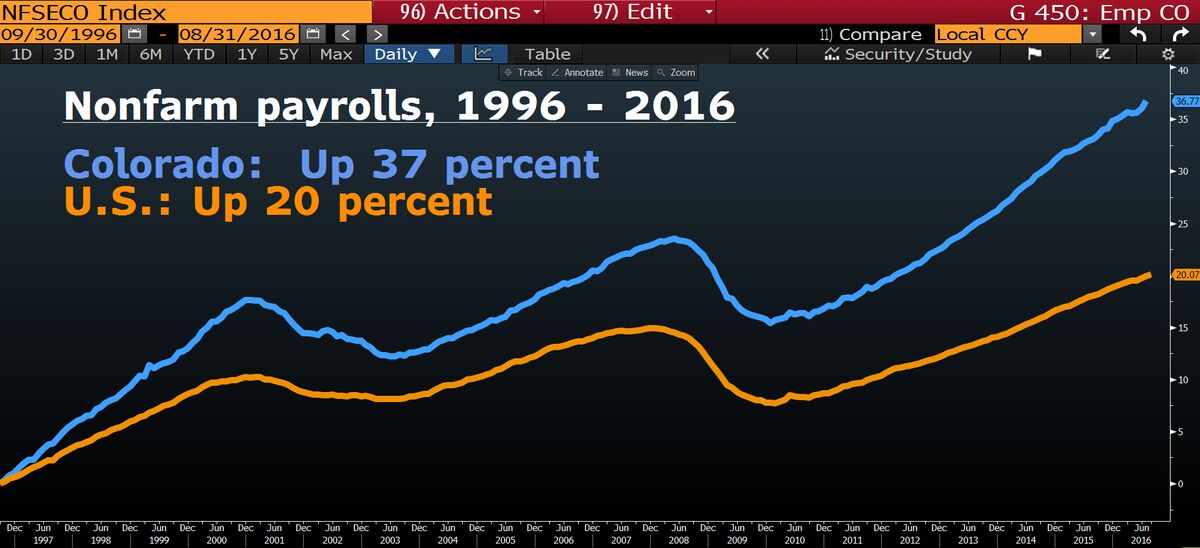 ❝ Here's something all of divided America should be able to agree on: Smart infrastructure investment works. For evidence, look at Colorado, where elected officials of both parties trace an economic boom to a decision 27 years ago to spend more than $2 billion on a new Denver airport.
❝ The Denver International Airport was the brainchild of Federico Pena, who was elected mayor in 1983 and who would become the Secretary of the Transportation and Energy departments in the Clinton administration. It was assailed as a boondoggle by some local businessmen in a campaign led by Roger Ailes, then a Republican media consultant and later the impresario of Fox News.
❝ The airport was financed by revenue bonds, which proved to be among the best performers in the market for state and local government debt. Today it is the linchpin of Colorado's transition to a global 21st-century economy flush with high-paying jobs and enhanced by daily nonstop flights to Asia, Central America and Europe.

Colorado has many economic advantages, from shale to ski resorts and beyond, but state officials say the new airport was the catalyst needed to set off the boom. "It's foundational," Governor John W. Hickenlooper said in an interview last month in his statehouse office. "I mean we look at infrastructure" as the central element "to build our new economy around."
❝ The airport's…annual economic impact today exceeds $26 billion, more than eight times [the old airport] Stapleton's in 1984…It has generated more than 270,000 jobs, almost twice the comparable figure for Stapleton 32 years ago, and $295 million in concession gross revenue, compared to $45 million for Stapleton in 1994…Passenger traffic was a record 27.5 million for the six months through June, up 6.8 percent from 2015. Stapleton had 33.1 million passengers in all of 1994…
❝ Colorado's economy, meanwhile, is leaving behind its reliance on mining and energy. Since 2012, the accommodations and food services industry grew 22.5 percent, faster than in any other state except Texas and California, according to Bloomberg data. Health care and social assistance companies expanded 17.4 percent, the most for any state. Wholesale trade grew 17.7 percent, the fourth best in the U.S. since 2014, and finance and insurance grew 7.4 percent, bettered only by Utah and Nevada. Today, material and energy make up less than 30 percent of the total market capitalization of Colorado's publicly traded companies, down from 53 percent in 2010.
And that's the killer for me. Living in New Mexico, everything that was backwards about Colorado in the 1980's is still alive and well in New Mexico. Our Republican governor has only one response to a budget defined by oil and gas production in a downturn. Austerity, cut the budget for everything from education to social welfare. Infrastructure upgrades started by the previous Democrat governor are still incomplete – mostly because she hates to admit a Democrat did something useful.
And I'm not confident the likely return to a majority Democrat state legislature is going to change our reliance on extractive industries and military subsidies.