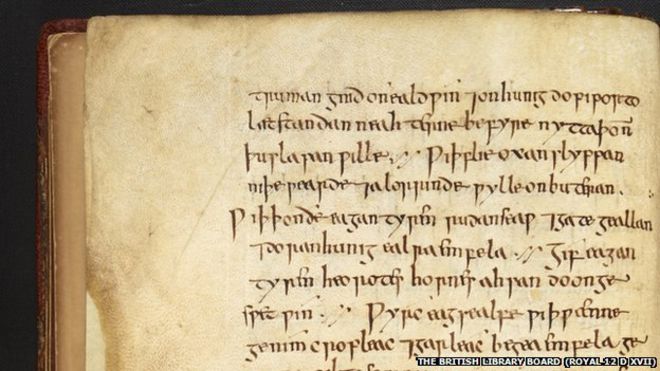 An eye salve from Anglo-Saxon manuscript Bald's Leechbook was found to kill MRSA
A 1,000-year-old treatment for eye infections could hold the key to killing antibiotic-resistant superbugs, experts have said.

Scientists recreated a 9th Century Anglo-Saxon remedy using onion, garlic and part of a cow's stomach…They were "astonished" to find it almost completely wiped out methicillin-resistant staphylococcus aureus, otherwise known as MRSA.

Their findings will be presented at a national microbiology conference.
The remedy was found in Bald's Leechbook – an old English manuscript containing instructions on various treatments held in the British Library.

Anglo-Saxon expert Dr Christina Lee, from the University of Nottingham, translated the recipe for an "eye salve", which includes garlic, onion or leeks, wine and cow bile.

Experts from the university's microbiology team recreated the remedy and then tested it on large cultures of MRSA…
In each case, they tested the individual ingredients against the bacteria, as well as the remedy and a control solution.

They found the remedy killed up to 90% of MRSA bacteria and believe it is the effect of the recipe rather than one single ingredient.
Dr Freya Harrison said the team thought the eye salve might show a "small amount of antibiotic activity".

"But we were absolutely blown away by just how effective the combination of ingredients was," she said.
Nice to see modern researchers declare the scientific method predated many discoveries they thought might have been necessary to bring about the transition from superstition to methodical testing and verification.
That the effect of the whole compound is greater than the sum of its parts is just another portion of that realization.