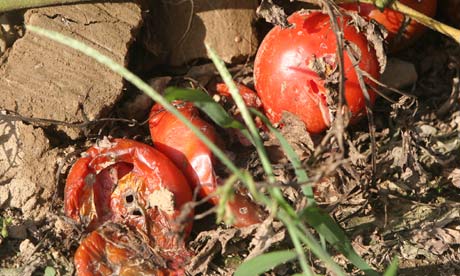 ❝ Brian Cash can put a figure to the cost of Alabama's new immigration law: at least $100,000. That's the value of the tomatoes he has personally ripening out in his fields and that are going unpicked because his Hispanic workforce vanished literally overnight.
❝ For generations, Cash's family have farmed 125 acres atop the Chandler mountain, a plateau in the north of the state about nine miles long and two miles wide. It's perfect tomato-growing country – the soil is sandy and rich, and the elevation provides a breeze that keeps frost at bay and allows early planting.

For four months every year he employs almost exclusively Hispanic male workers to pick the harvest. This year he had 64 men out in the fields…Then HB56 came into effect, the new law that makes it a crime not to carry valid immigration documents and forces the police to check on anyone they suspect may be in the country illegally.

The provisions – the toughest of any state in America – were enforced on 28 September. By the next day Cash's workforce had dwindled to 11…
❝ Cash says that losing his pickers is much more than a commercial disaster. "Many of these people are friends and like family to us. They have been working for my family for years."

The crew leader for Cash's fields has been working for his family for 17 years. "He's my age and we pretty much grew up together," he says.

Cash has sponsored him in his application for American naturalisation – a process that the immigration authorities have said will take up to nine years and cost up to $17,000.
❝ The crew leader already has permanent residency status and his two children are US citizens, but because his wife is undocumented he was fearful of the new law and left abruptly along with the others the minute the provisions came in.
RTFA. Take the time to step past the lies and propaganda conservative and bigoted Congress-critters, state and local scum-suckers blather to pass laws like this. Itinerant foreign migrant labor is nothing new in my life. For decades migrant farm crews returned to the Connecticut River valley to follow the harvest season south until it was time to return home. In those days, mostly back to the Caribbean.