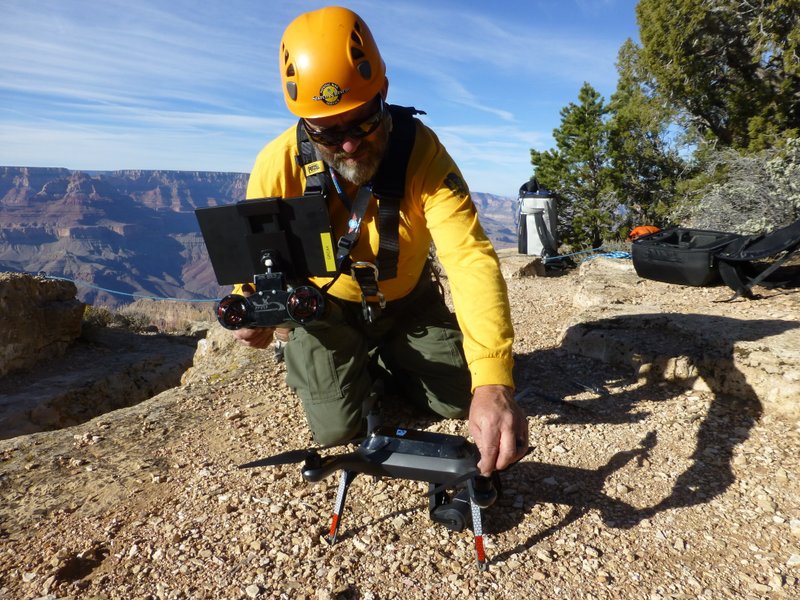 Brandon Torres — AP Photo
❝ The desperate effort last week to find two hikers who disappeared at the bottom of the Grand Canyon represented the National Park Service's most extensive use yet of drones in a search-and-rescue mission.

The Grand Canyon is the only national park with its own fleet of unmanned aircraft for locating people who have gotten lost, stranded, injured or killed. Under a program that began last fall, it has five drones and four certified operators.

While the aerial search for the two hikers came up empty, it threw a spotlight on technology that can enter crevices and other rugged spots unreachable by foot while sparing searchers the dangers of going up in a helicopter.
❝ The aircraft were used Monday through Wednesday in the search for LouAnn Merrell, 62, and her step grandson, Jackson Standefer, 14. The park also sent out three ground search teams of about 20 people in all, an inflatable motor boat and a helicopter.

Merrell and Standefer vanished last weekend after losing their footing while crossing a creek near the North Rim. They were on a hike with Merrell's husband, Merrell Boot Co. co-founder Randy Merrell, and the boy's mother.

The park soon scaled back the operation and stopped using the drones but continued the search. In a statement, the hikers' families backed the decision and said they were "still praying for a miracle."
❝ Other national parks use drones, but for wildlife research. The use of private drones is prohibited in national parks.

James Doyle, a spokesman for the park service's Intermountain region, said other national parks will probably seek their own drone fleets, too. He said the Grand Canyon's extreme topography — it is a mile deep — makes it a perfect candidate.
Even unsuccessful, this latest use of new technology cost less and endangered a fewer folks than traditional means. Which, BTW, were revolutionary in their own time.