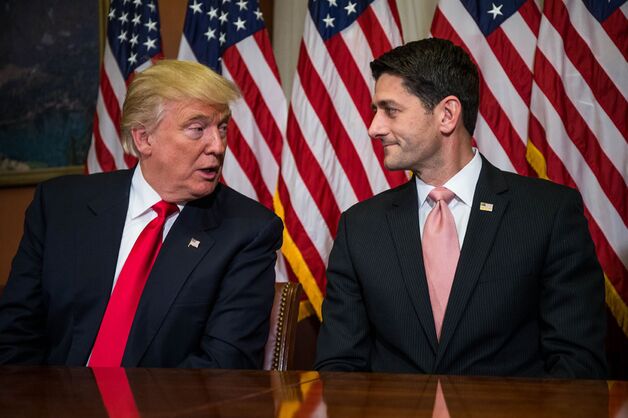 "You're a bigger liar than I am"
❝ Fourteen million Americans would lose coverage next year under House Republican legislation remaking the nation's health care system, and that number would balloon to 24 million by 2026, Congress' budget analysts projected Monday. Their report deals a stiff blow to a GOP drive already under fire from both parties and large segments of the medical industry.
❝ The Congressional Budget Office report undercuts a central argument President Donald Trump and Republicans have cited for swiftly rolling back the 2010 health care overhaul: that the insurance markets created under that statute are "a disaster" and about to implode. The congressional experts said the market for individual policies "would probably be stable in most areas under either current law or the (GOP) legislation."

The report also flies in the face of Trump's talk of "insurance for everybody," which he stated in January. He has since embraced a less expansive goal — to "increase access" — advanced by House Speaker Paul Ryan and other Republicans…
You have "access" to the best medical care in the world, right now. If you can afford it. Obamacare made healthcare affordable for millions more Americans. Trumpcare takes it away...
❝ The budget office's estimates provide a detailed, credible appraisal of the Republican effort to unravel former President Barack Obama's 2010 overhaul. The office has a four-decade history of even-handedness and is currently headed by an appointee recommended by Price when he was a congressman…
❝ …The budget office said the GOP measure would reduce federal deficits by $337 billion over the coming decade. That's largely because it would cut the federal-state Medicaid program for low-income Americans and eliminate subsidies that Obama's law provides to millions of people who buy coverage…
Truly kind-hearted crew in the Republican Party. If you're a millionaire.
❝ The American Medical Association, which has opposed the Republican bill because it would reduce coverage, said the report shows the legislation would cause "unacceptable consequences."…
❝ By 2026, the office estimated, a total of 52 million people would lack insurance, including 28 million who would have been expected to lack coverage under Obama's statute. People with lower incomes age 50 to 64, generally too young for Medicare, would represent a disproportionately large share of the uninsured, and growing numbers of people would lose coverage from jobs.
One of the best economists currently teaching in the United States tweeted calculation of an individual example for someone just short of making it to Medicare:
You really gotta give it to the Republicans. If you don't, they'll come to your home and take it away!