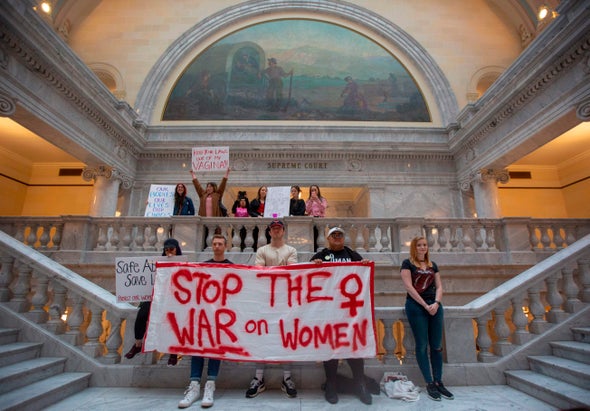 ❝ We are scientists, and we believe that evidence, not ideology, should inform health care decisions. The wave of anti-abortion laws across the U.S. is the latest in a long string of attempts to falsely use the language and authority of science to justify denying people their basic human rights and inflict lasting harm. Although abortion is still legal in every state, recent legislation in Alabama, Georgia, Kentucky, Louisiana, Mississippi, Missouri and Ohio threatens the future of abortion rights in the country. Scientists should, first and foremost, value evidence, and the evidence is clear: abortion bans cause harm. They make abortions less safe and especially harm historically marginalized communities…
❝ So-called heartbeat bills, which ban abortion as early as after six weeks of pregnancy, are not based on science. In fact, no heart yet exists in an embryo at six weeks. Yet six states and counting enacted such bills in 2019, in addition to Alabama's near-total ban. Equally unscientific "abortion reversal" laws are also gaining traction. These laws, now on the books in eight states, require doctors to tell patients receiving a medication abortion, a safe and effective way to end an early pregnancy, that it can be reversed halfway through to save their pregnancy.

Not only is this law bad science, it is actively dangerous. The idea of abortion reversal is based on a single study of six participants that was (poorly) conducted without an ethics review board. The so-called abortion reversal procedure is experimental and has neither been clinically tested nor approved by the Food and Drug Administration.
❝ Both heartbeat bills and abortion reversal laws have been opposed by leading medical groups, including the American Medical Association and the American College of Obstetricians and Gynecologists.
Real doctors, real scientists, don't rely on ancient myths and legends to advance the health and welfare of our species. A primary reason they have success rate scores enormously higher than superstitious mumbo-jumbo.