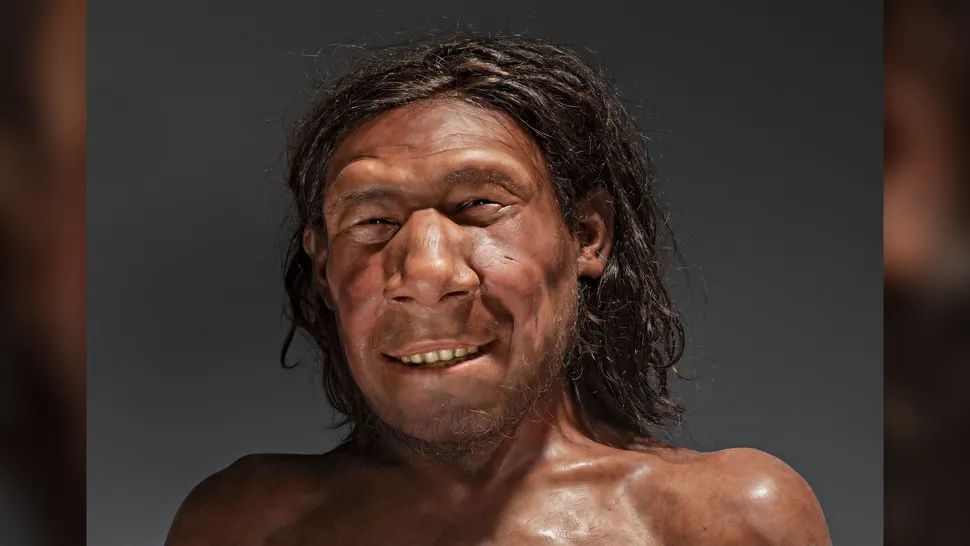 RMO
You can now gaze into the crinkly eyes of "Krijn," a young Neanderthal man who had a tumor growing on his skull when he died up to 70,000 years ago.

In 2001, an amateur paleontologist found a piece of Krijn's skull while sifting through sediments collected from the bottom of the North Sea, off the coast of the Netherlands. Now, paleo-anthropological artists have used that hunk of skull to create a lifelike bust of Krijn, including the bulge above his right eyebrow where the tumor sat…
When Krijn was alive, between 70,000 and 50,000 years ago, he lived in Doggerland, a vast swath of land between the United Kingdom and continental Europe, which is now submerged beneath the North Sea. A 2009 study in the Journal of Human Evolution revealed a few details about Krijn: The young man was highly carnivorous, but his body didn't show any evidence of seafood in his diet, according to an analysis of the isotopes, or element variants, of carbon and nitrogen found in his skull. Moreover, a lesion above Krijn's eyebrow indicated that he had a tumor known as an intradiploic epidermoid cyst.
Krijn may be smiling for another reason; he's the first fossil hominin dating to the Pleistocene epoch (2.6 million to 11,700 years ago) found under seawater and the first recorded Neanderthal in the Netherlands, according to the 2009 study.
Short article; but, another chance to post about my distant kin. I've noted before, genetic analysis puts me at 3% Neanderthal. Though, unlike my cousin above, I love fish.