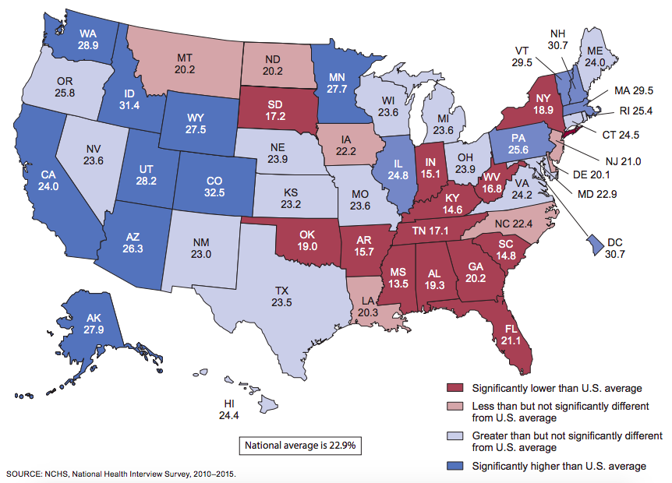 The exercise part of the story
❝ It may seem like a contradiction, but more adults in the U.S. say they are exercising at the same time more of them are becoming obese.

About 24 percent of adults last year said they exercise enough each week to meet government recommendations for both muscle strengthening and aerobic exercise, according to a large annual health survey. That was up from 21 percent in 2015.

The same survey says 31 percent of adults indicated they were obese last year, up slightly. Another, more rigorous government study has also found adult obesity is inching up.
❝ In a report…released Thursday, Centers for Disease Control and Prevention looked at survey responses from 2010 through 2015 and found that level of leisure-time exercise was more common in some states than others.

Nearly a third of non-elderly adults in Colorado, Idaho, and New Hampshire met exercise guidelines. Only about one-seventh in Mississippi, Kentucky and South Carolina did.

Higher levels of exercise were more common in people who were working than those who weren't, the study also found.
❝ Of course, unhealthy eating has a lot to do with obesity. Research indicates that "a change in diet is needed to see any dent or reduction in obesity," said the CDC's Tainya Clarke…
RTFA. Better yet, get off your butt and go for a walk. There are more than graphic reasons for reports like this to be called a dumbbell curve.