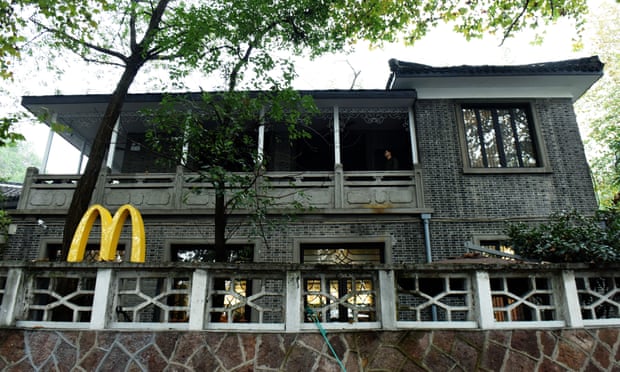 McDonald's has turned a house in Taiwan where the son of the former Chinese leader Chiang Kai-shek once lived into a restaurant, dividing opinion on the island and in China.

The McCafe opened on Friday in the former residence of Chiang Ching-kuo, near West Lake in Hangzhou, Zhejiang province. A side wing of the two-storey wood and brick lakeside villa had already been turned into a Starbucks in October.
Chiang Ching-kuo lived in the western-style villa with his family for a short time in 1948. He fled the mainland in 1949 after the Chinese Nationalist party's army was defeated by the communists, retreating to Taiwan where he was president from 1978 to 1988…
A McDonald's spokesperson declined to comment.
For many "important" political figures in recent decades I think this transformation is spot on. We could rent out Richard Nixon's home to be the World Headquarters of the White Citizen's Council. The Texas ranch that George W. Bush bought specifically to befuddle ignorant voters into thinking of him as a good ol' boy instead of the incompetent and petty front man for religious crusades around the world – could become a theme park for Madison Avenue Republicans, e.g., Kinder, Gentler Conservative-land. Complete with plastic promises.