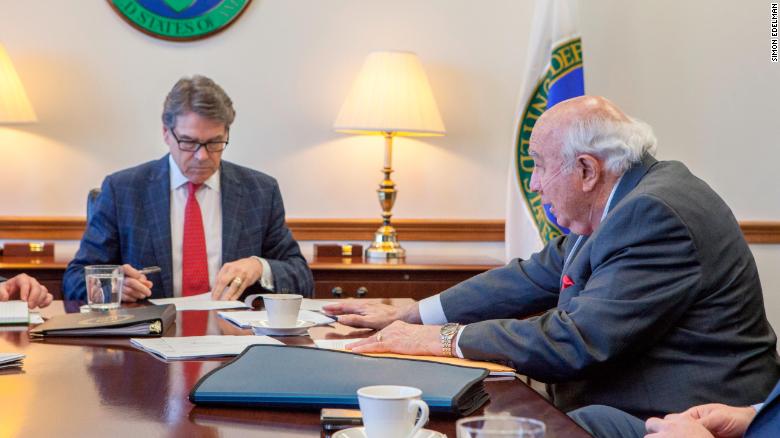 Rick Perry [L] and Robert Murray [R]
❝ Scott Edelman's pictures show Robert Murray, who donated $300,000 to Donald Trump's presidential inauguration, give Perry an "action plan." Murray's company has previously lobbied the Trump administration to end new federal public health protections for greenhouse gas emissions and smog pollution, loosen mine safety rules, and cut the staff of the Environmental Protection Agency by "at least half."
❝ Perry and Murray shook hands, hugged and agreed to get it done. Then they kept everything that happened that day a secret.

If this raises a few flags for you, then you understand the predicament I was in when I was still employed at DOE in March 2017. I thought about it and decided to release the photos and the story to the public, after which I was placed on leave and then fired. My personal laptop was seized (though it was recently returned to me), and I was subjected to intimidation tactics from DOE staff.
❝ Some of the policies Murray's company has advocated for have been faithfully executed without research, thoughtful public comment periods or policy input from public health professionals. President Trump pulled out of the Paris Agreement on climate that cuts down on greenhouse gas emissions globally, and his administration gave notice of repealing the landmark Clean Power Plan, which reduced greenhouse gas emissions from coal plants nationwide. The Trump administration attempted to delay, but was eventually forced to proceed due to lawsuits, clean air protections against smog pollution. The President also nominated a coal company consultant to oversee national mine safety and began cutting EPA scientists and other career agency staffers in droves.
Who expects different from Trump – or the Republicans in charge of Congress?